National Geographic: Undercover Video Confirms Hong Kong's Retail Market Is "Front" for Smuggled Ivory

September 25, 2015
By Laurel Neme and Maraya Cornell
Hong Kong's retail ivory market acts as both a cover for smuggled ivory and an incentive.
A new report, The Hard Truth, released September 7 by World Wide Fund for Nature (WWF)–Hong Kong, reveals how fundamental flaws in the existing regulatory system help fuel the illegal trade.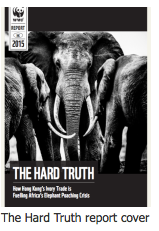 Hong Kong prohibited the international trade in elephant ivory in 1990. But domestic trade continued. Licensed dealers were allowed to use and sell their existing private stocks obtained prior to the ban.
(These private stocks are separate from the Hong Kong government's 29.6-ton stockpile of seized illegal ivory, which is being destroyed in a lengthy process that started in May 2014.)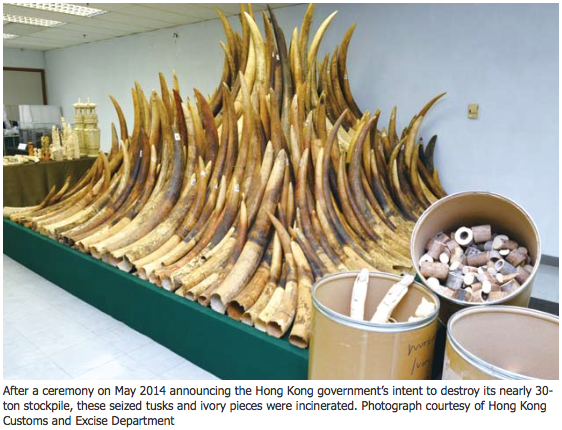 The idea was that these stocks would be exhausted over time. Instead, they've remained relatively stable during recent years. According to government figures, in 2011 they amounted to 116.5 metric tons, increasing to 118.7 tons in 2012 and dropping to 117.1 in 2013, and 111.3 in 2014.
This steady state cannot be explained by declining demand because during the same period business has flourished.
According to the 2015 report on Hong Kong's Ivory by Esmond Martin and Lucy Vigne for the Kenyan NGO Save the Elephants, Hong Kong has more than 400 licensed businesses displaying 30,000-plus ivory items for sale—more than any other city in the world.
This paradox—thriving sales that never diminish the supply—can be explained by flaws in the licensing system that let unscrupulous traders funnel illegal ivory into the legal trade.
Gavin Edwards, conservation director for WWF-Hong Kong and coauthor of the report, spoke to National Geographic about their findings.
What prompted this investigation?
Because there's a lot of ivory coming through Hong Kong, we've long suspected that some of it is destined for Hong Kong and that it could in fact be helping to drive the ongoing poaching crisis of elephants in Africa. But we didn't have any concrete evidence that that was the case. So about four to five months ago, we started taking a closer look at the trade.
We were fortunate to obtain undercover video from some concerned citizens, which we authenticated, and it was the missing piece in our research and analysis.
What did it show?
The video shows interviews with sizeable traders. It gives you a sense of the shops, and in the background you see rooms of tusks, hundreds of carved pieces, and in some cases carvers working. There's an ongoing trade in ivory here.
One of the most troubling revelations is one trader explaining that if you want to make an order now, he can get it direct from Africa for you.
It was shocking to hear but not completely surprising. It confirmed our long-held suspicion that Hong Kong's retail market is helping drive ongoing poaching in Africa.
How does the system work?
There are over 400 licenses issued for the commercial sales of ivory, and they're all registered to sell their pre-convention stocks. The government refers to [this legal ivory supply] as a stockpile, but it's actually the property of the traders. Of those 400 licenses, there are about 70 to 80 that actively operate a business. The rest might be sitting on just a few single pieces.
Every five years when they renew their license the traders have to report on their stock of [legal] ivory. Of course, if they sell everything off, they no longer have an ivory trading business.
So there's actually a perverse incentive in the system.
The total stockpile was originally 665 metric tons of ivory in 1989. Now we're down to about 111 tons of ivory. But in the last four years, only about five tons have been sold.
Do those figures make sense?
The shops are in high-rent locations in the city, and yet they claim to be selling hardly any ivory at all. But the NGO Save the Elephants did a survey that found over 30,000 pieces of ivory on sale at any one time.
The suspicion we had is that traders would simply grab a piece of illegal ivory and sell that instead of the legal ivory, and maintain that they were just having a poor year and not selling anything. That's been confirmed through this undercover investigation.
One trader said, "After I sell an ivory item, I can use illegal ivory to top up my stock again. The government officials have no idea on how to govern."
That painted a very disturbing picture of the local ivory trade.
Why is WWF-HK calling for an end to the ivory trade in Hong Kong rather than stricter regulation and enforcement?
It's been 25 years since the international ban was put in place, so we should've been down to zero a long time ago.
We believe that, as the stockpile decreases, there's an increasing incentive to not let the legal stockpile go down, in order to create a front for illegal activity.
When we start to look into the solutions in terms of strengthening regulation, each one brings a new set of problems and headaches for the government.
For example, a new initiative just announced by Hong Kong government is to put tamper-proof hologram stickers on large pieces of cut ivory and whole tusks so that they can better track them.
On the one hand, tracking of the inventory is welcome. But, if the ivory that has a sticker placed on it is illegal—if it's been laundered out, if it's recently arrived in Hong Kong—then the government could be endorsing an illegal product.
The only way to check whether that large piece or whole tusk is legal would be to send a sample for radio isotope testing. For that you have to cut a piece out. So, in order for government to verify the product is legal, they have to damage a piece of the product.
And, if carvers start to break down a large piece into smaller pieces, it just disappears from the tracking.
We think it would be much easier, and cleaner, and simpler, for the government to phase out the commercial sales and processing of ivory in the city.
How has the government responded to your report?
It's been positive. Months ago the government was denying that there was a problem. But the government has shifted its position. It's now saying there are some challenges in the regulatory market. We're also seeing the Agriculture, Fisheries, & Conservation Department launching new initiatives to try and strengthen regulation.
It's encouraging, because it's admitting that there is a problem in the city, and that's now out in the open. But we haven't yet got agreement on a rapid phase-out and then a banning of ivory, and we think that's the direction the government needs to be going.
Laurel Neme, Ph.D., is a freelance journalist and author ofAnimal Investigators: How the World's First Wildlife Forensics Lab is Solving Crimes and Saving Endangered Speciesand Orangutan Houdini. Follow her on Twitter @LaurelNeme
Maraya Cornell is a freelance writer based in Los Angeles. Follow her on Twitter @Maraya Cornell