National Geographic: Justice for Rhinos–When Will it Come?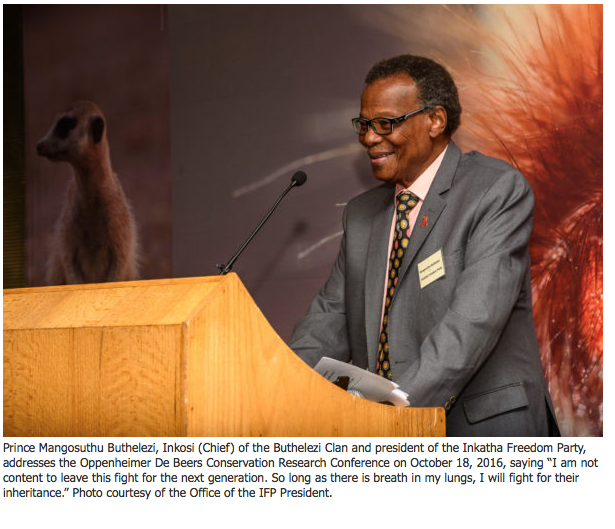 Nothing prepared me for the venom in his eyes. While not directed at me, nobody in the courtroom could escape the anger seeping from his pores.
Through a twist of fate, I was in KwaZulu-Natal (KZN), a province on the eastern coast of South Africa, on September 19, the day the trial of a suspected leader of a rhino horn trafficking syndicate, Dumisani Gwala, and his two co-conspirators was scheduled to begin.
Arrested on December 18, 2014, after a weeks-long sting, he reportedly is "the leader of KZN's biggest rhino-poaching syndicate," with about 80 percent of illicit horns in the province passing through his hands.
"He is brutal and rules by the gun. He is often the middleman between the poachers and buyers, but he also organises poachers in Mozambique and locally and provides them with weapons," Barend Lottering, head of the private, regional Nyathi Anti-Poaching Unit told South Africa's Sunday Tribune at the time of the arrest.
Out on bail of reportedly R10,000 (roughly $865), Gwala's trial had already been postponed several times. The most recent was a couple weeks earlier, when Gwala changed his defense counsel in what I learned is a common delaying tactic.
When I entered the courtroom at the Ngwelezane Magistrate's Court near Empangeni, I didn't know if, this time, the trial would proceed.
It didn't.
In a nutshell, here's what happened. At the stated 9 a.m. start time, Gwala's latest attorney was nowhere to be found. After 15 minutes of disarray, the hearing started with the defense attorney of the two co-defendants withdrawing and a request for another postponement because of this change in representation.
At around 9:30, Gwala's attorney showed up. She offered an apology but no explanation for her tardiness. Then she too asked for a postponement, saying she was unprepared and needed more time—a repeat of her request from two weeks earlier, when she also asked for more time.
Community Seeks Justice for Rhinos
As I followed the legal maneuverings, I looked around the simple courtroom. It was packed. About 40 members of the Zulu community, both men and women, filled the three rows of seats in the stuffy room. They wanted justice for their rhinos.
"The rhino, Ubhejane, is a respected animal in Zulu society," Prince Mangosuthu Buthelezi, Inkosi (Chief) of the Buthelezi Clan and head of the Inkatha Freedom Party, later explained to me. "I cannot understand South Africans who poach rhino. Our own people, destroying our own heritage. It breaks my heart."
Buthelezi has fought to protect South Africa's rhino population since the 1970s. At that time fewer than 500 white rhinos remained, and he worked closely with conservationist Ian Player to grow their numbers. He also withstood pressure from the National Party Government to turn Zululand's game reserves into agricultural holdings.
"I said then, and I still maintain, that the game reserves of KwaZulu Natal are our heritage, and as such are beyond price."
Also in the courtroom was Jamie Joseph, activist and founder of Saving the Wild, who has been outspoken against Gwala and corruption in the justice system. "There have been several cases against Gwala before, but cases have either been withdrawn or the dockets have suspiciously gone missing," she said on her Facebook page. "If Gwala is convicted this will be the first time that the South African government finally locks up an alleged syndicate boss."
But this was not the day.
The prosecutor lamented the numerous postponements. "The delays caused by several changes of attorneys is not in the interest of justice," he argued.
The magistrate agreed. "This cannot be allowed to go on and on," he said. He reset the trial for October 21.