National Geographic: Elephants in Cameroon and Chad face Imminent Threat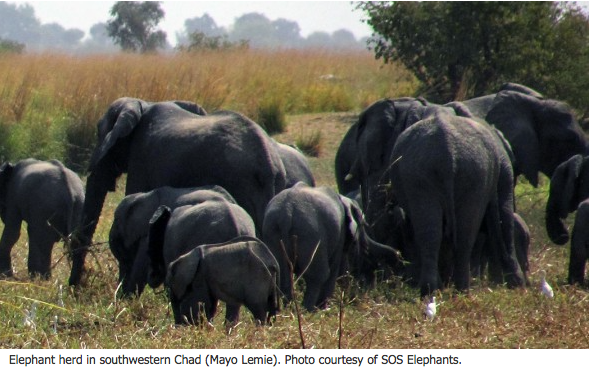 Gangs of heavily armed elephant poachers have crossed the Central African Republic (CAR) from Sudan and are reported to be close to the southern Chad and northern Cameroon borders.
Several columns of Sudanese poachers, comprising between 150 to 200 men riding on camels and horseback, have been sighted in recent weeks by villagers and by staff with Project Ecofaune, a program funded by the European Union that aims to protect CAR's wildlife. Project staff also described the firing of 60 or so shots by poachers near Ecofaune's base at Sangba (near Dzanga-Sangha and Boumba Bek National Parks in southwestern CAR and southeastern Cameroon respectively). No elephant carcasses have been found yet, and the shots may have been intended to intimidate staff at the camp.
Informers recognized one of the poachers as part of the group responsible for the killing frenzy that according to some reports left as many as 650 elephants dead in and around northern Cameroon's Bouba Ndjidah National Park in February 2012. This connection was confirmed when the head of the gang told a village health care worker while being treated for minor injuries in mid-October that the men had decided to return earlier than usual to take advantage of the greater ground cover during the rainy season. The February massacre occurred during the dry. According to Project Ecofaune's Monthly Security Bulletin, the leader noted that back in February "they had a lot of losses in Cameroon" and that they now wanted to get there ahead of the dry season "to strike by surprise." (While rangers could not repel the attack, Cameroon's military killed one poacher and drove out the rest within a month; one soldier was killed, and two others injured.)
While the poachers' destination may now be northern Cameroon, that may shift. Depending on the season and the threats, the elephant herds in central Africa roam between Chad, Cameroon, and the Central African Republic. According to Stephanie Vergniault, president of SOS Elephants, a wildlife organization based in Chad, during the past few months hundreds of elephants have moved into southwestern Chad seeking refuge from heavy poaching in northern Cameroon and CAR. She says that the numbers near the SOS Elephants camp in Mayo Lemie increased from 300 at the start of 2012 to around 700 now.
The poachers have followed a well-worn path, entering CAR from Sudan at Tinga on or around September 8. By November 22 they were seen near Ndele heading towards Bamingui-Bangoran National Park in northwestern CAR close to the border with Cameroon. To reach northern Cameroon they must first cross into Chad. Difficult rainy season conditions, including swollen rivers and marshland, are hindering travel, and they may not enter Chad for another week or two.
These men are lethal. Each carries one or two individual weapons, typically AK-47s, and the group has at least six Russian shoulder-fired anti-tank grenade launchers (RPG-7s) and four Thuraya satellite phones.
These men are lethal. Each carries one or two individual weapons, typically AK-47s, and the group has at least six Russian shoulder-fired anti-tank grenade launchers (RPG-7s) and four Thuraya satellite phones. In October the poachers took a young villager hostage and forced him to guide the group before releasing him a week later.
The Cameroon government has mobilized its special military unit, the Rapid Intervention Battalion (BIR), yet questions remain whether this is enough. Vergniault is urging Chad's President Idriss Déby Itno to offer CAR President François Bozizé military support to address the threat while the poachers are still in CAR. "Once these small groups of assimiliated 'nomad-style horsemen' enter Chad, it will be very complicated to detect them," she says. Last August, after 63 elephants were slaughtered in southwestern Chad, the government launched a massive search for the poachers, but it took weeks before forces caught them. "The border between Chad and CAR is full of small mountains and forests," Vergniault explained, "so that poachers can easily hide in small groups pretending they are [local] nomads."
Assistance is needed because the CAR government lacks the capacity to tackle this poaching threat. Currently, multiple armed rebel groups operate with impunity throughout the country, including the Lord's Resistance Army (LRA) in eastern CAR. The LRA is a militant group headed by Joseph Kony and accused of numerous human rights abuses. A September New York Times article by Jeffrey Gettleman noted that the LRA uses ivory to finance itself and that the group was responsible for killing dozens of elephants in Garamba National Park in the Democratic Republic of Congo (DRC) this past spring. In December 2011 the United States deployed a small number of U.S. forces as advisors to CAR's national military for pursuit of the LRA.
The leaders of CAR and Chad have a close relationship, so military assistance by Chad may be welcome. In 2003, then General François Bozizé ousted President Ange-Felix Patassé, presumably with backing from Chad's President Déby.
Already President Déby has sent military aircraft to patrol southwestern Chad, where elephants have congregated. Vergniault is hoping he will extend this military reach to stop the poachers while they are still in CAR. This would protect the elephants and prevent a "nightmare that will spread around the area."