Burlington Free Press, Friday April 10, 2009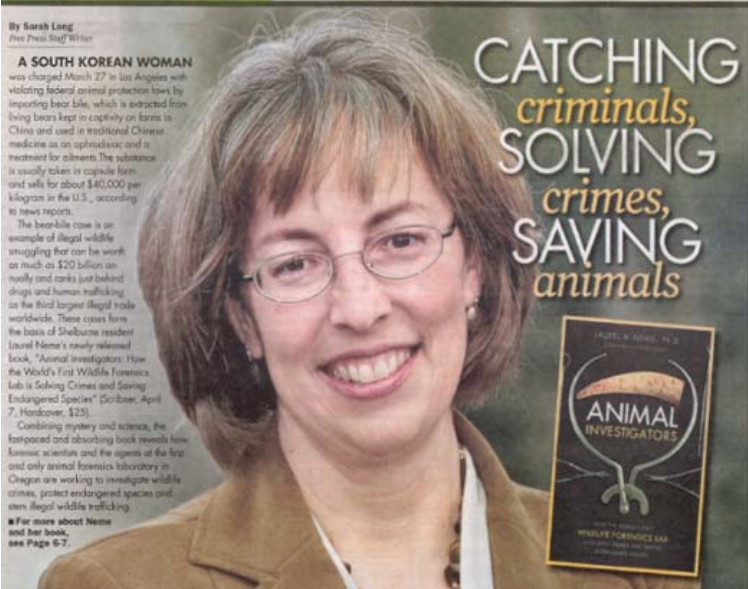 By Sarah Long, Free Press Staff Writer
In researching "Animal Investigators," author Laurel Neme combed through more than 80 case files and spent time with the agents at the laboratory to find a cross-section of cases that showcase different aspects of the lab — and also tell a fascinating story.
The first case is of the Alaskan walrus, slaughtered for its tusk ivory, which is made more complex by the role of the Native Eskimo people whose culture and livelihood is centered on the hunt. Next is an investigation of the trade in black bear gallbladders used in traditional Chinese medicine; a brutal case involving animal cruelty in the service of greed. And, finally, Neme focuses on the world of illegal smuggling of Brazilian Amazon feather art that exploits the native peoples who made it and threatens jaguars, scarlet macaws, harpy eagles and other protected tropical animals.
"The main reason I wrote this book is to bring awareness to this issue and get people to think about what they buy," Neme said. "We as consumers have so much power. You often think 'I'm just one person, what does my one purchase matter?' But it does matter. One person can make a difference."
---
The one person who has made a difference in the world of wildlife trafficking is Ken Goddard, director of the U.S. Fish and Wildlife Forensics Laboratory in Ashland, Ore. — also known as a "CSI of wildlife." A former crime lab director, biochemist and chief criminologist from a California police department, Goddard worked for more than a decade to establish the laboratory, which officially opened its doors in 1989.
"The lab's staff aren't just working feverishly to solve crimes, they are foraging a new field of science as they go," Neme writes. "Not only does the lab handle a vast array of species, it also has to work from a vast array of products and specimens — victims often arrive as unidentifiable parts, a carved statuette or a belt or a small vial of pills — that give no clue to the victims' identity."
From polar bear rugs to dried seal penises allegedly made to counteract impotence, to countless animal parts and full carcasses awaiting examination, the U.S. Fish and Wildlife Forensics Laboratory investigates a wide range of cases and handles more than 30,000 species of victims.