Commercial Porcupine Farming in Vietnam, Emma Brooks
IUCN program officer Emma Brooks discusses illegal wildlife trade in Vietnam and her research on how commercial farming of a traded species, like porcupines, affects both the species and the trade. She tells "The WildLife" host Laurel Neme how most animals in Vietnam's wildlife trade end up on the plates of wealthy restaurant patrons. In Vietnam and elsewhere, commercial wildlife farming, meaning the breeding of wild species for legal sale, is often promoted to supply demand while preventing overhunting in the wild. However, in a study on the conservation impact of commercial wildlife farming of porcupines in Vietnam published in August 2010 in Biological Conservation, IUCN program officer Emma Brooks concluded that commercial porcupine farming is instead having the opposite effect.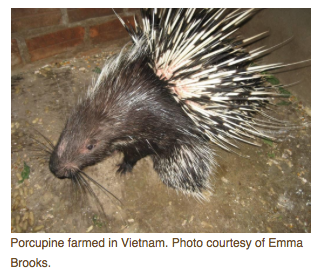 Emma Brooks has been involved with numerous conservation projects around the world, from biodiversity surveys in Mozambique to Giant River Otter counts in Bolivia. She first became interested in wildlife trade issues during her MSc at the University of East Anglia, UK. Her research in the trade in porcupines formed her dissertation topic, for which she spent three months collecting data and interviewing locals in northern Viet Nam. Emma now works for the IUCN, as part of the Global Species Programme based in Cambridge, UK. Her work includes assessing the extinction risk of species from around the world for inclusion on the IUCN Red List of Threatened Species, as well as using the information gathered to analyze species richness, major species and habitat threats, and important areas for biodiversity. The importance of species, ecosystems and services to human livelihoods and wellbeing is increasingly being recognized, and she works in a number of areas to provide the information to support decisions for the protection of species and livelihoods. (First aired on August 15, 2011)
You can download this and other episodes at Podbean or at iTunes.