Huffington Post: Saving Elephants One Kid at a Time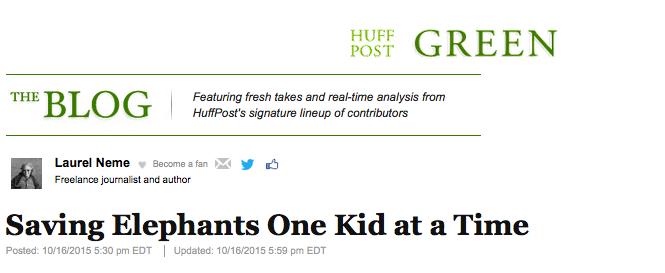 Children's voices can be extremely powerful--a fact readily apparent on a recent Sunday when more than 325 people--most of them children--participated in Vermont's first kid-driven Global March for Elephants.
The event was initiated by 12-year-old Taegen Yardley, who organized a network of
student "champions" at more than a dozen elementary and middle schools across the state. These youngsters spread the word about the march to their classmates, teachers, and parents--and in the process creating a groundswell of interest in the plight of elephants.
"I'd heard about it before, so I gladly helped," said Siri Beck, an eighth-grader at Edmunds Middle School, the largest in the state. Beck garnered support from her fellow student council members and prepared a broadcast about elephants and the march for morning announcements.
At Stowe Elementary School, ten-year-old fifth-grader Abrie Howe educated teachers, classmates, and parents about the impact of the illegal ivory trade when she spoke at an all-school assembly in front of 400 people.
Howe researched and wrote her presentation and then elicited support from her friend, Ellie Zimmerman, who stood by her side and held up a poster during her speech. Howe also hung posters around the school and convinced the front office to hand out elephant-related pins, bookmarks, and stickers.
"So many kids were involved on different levels," said Kristin Yardley, Taegen's mother.
Origins of Activism
Yardley first learned about elephant poaching in 2012 from National Geographic magazine's cover story on Blood Ivory. Inspired, she and her friends held a bake sale to raise money for orphaned elephants at the David Sheldrick Wildlife Trust in Kenya.
This spring when Vermont's legislature started considering a bill (H.297) to ban ivory sales in the state, she and her classmates at Endeavour Middle School wrote letters of support.
And when the state's House Committee on Fish, Wildlife & Water Resources held its first hearing, in April, Yardley testified--supported by her entire school student body in the audience to cheer her on.
In May, she and Lena Ashooh, a member of Shelburne Community School's environment club, led a group of ten Vermont students from three different schools in a conversation via Skype with ten students from Hong Kong's Clearwater Bay School. The 12-hour time difference didn't bother the 20 students as they eagerly shared experiences.
The Hong Kong students explained how they'd marched in front of key ivory retailers as part of the 2013 and 2014 Global March for Elephants and Rhinos to protest domestic ivory sales. Not long after the protests, shops agreed to stop selling ivory.
Bolstered by that success, the Vermont kids agreed to plan a similar march for elephants in Burlington, the state's largest city. They thought it would be a good next step to educate people and build support for passage of the state bill.
Advocacy Through Art
The kids formed a committee and brainstormed ways to involve more kids.
Their first idea was a t-shirt painting event, which they organized with the support of Teresa Davis, owner of the local Davis Studio, which teaches art classes for all ages. The response was so overwhelming that Davis added a second workshop.
To help spread the message of the need to stop the ivory trade, more than 50 kids and their parents created a diverse rainbow of t-shirts designs.
"They may not be fuzzy but on the inside elephants have the biggest heart," said Burlington sixth-grader Olivia Mahon, who painted one of the shirts. "Sometimes the biggest animals are the weakest, so we need to help them as much as we can."
Tusk-making Parties
The students also decided to make tusks to carry at the march. Their goal was 192 tusks--or 96 pairs--to symbolize the number of elephants killed each day.
Yardley and Davis experimented and finally settled on shaping swimming pool noodles with wire and duct tape and then covering them with plaster.
While this was the fastest and easiest design, it still took a minimum of 10 minutes per tusk. That meant they needed a lot of kid-power--at least 32 hours' worth--to reach their goal.
In the first tusk-making party, ten kids learned the process. The result: 51 tusks--and a lot of enthusiasm.
Family, friends, and other schools completed the job with tusk-making parties of their own.
Kid-driven March
All of these efforts came together on October 4 as hundreds of children and adults gathered near City Hall in Burlington to share their passion for elephants and demand an end to the ivory trade.
U.S. Senator Patrick Leahy supported the students and was pleased to see such an outpouring of energy and support. One of bill H.297's sponsors, Republican state representative Kurt Wright, implored the group to also gather in Montpelier, the state's capital, so that other legislators could see the scale of support.
And the mound of fake tusks, which participants silently laid after walking the city's streets, made a powerful and moving memorial to elephants.
Children are often told that, when they grow up, they can make an impact on the world around them. Some aren't waiting that long.
This article first appeared on National Geographic's A Voice for Elephants blog.
Follow Laurel Neme on Twitter: www.twitter.com/LaurelNeme